I stumbled on an announcement this week – as happens when you are mindlessly browsing the Interweb, that a new collection of short stories by Terry Practchett, author of the Discworld novels (need I even say it?), will be published in August 2023. First emotion: happiness. Must have! Quick! Order! Followed by second emotion: puzzlement. Which short stories? How? Surely it is a hoax. Third emotion, after reading the full article: grumpiness. Another irritating case of milking the legacy of a dead author for all it is worth, and then announcing it with a click-bait headline.
I remember the tub-full of smelly stuff that hit the fan and went absolutely everywhere when the prequel to To Kill a Mockingbird, by Harper Lee, was unearthed and published in 2015. Lee died in 2016. Called Go Set a Watchman, it was regarded as the literary highlight of the century, like finding a lost Da Vinci fresco hidden in a backstreet bodega in Venice.
Many people said that Lee never wanted it published in the first place and that it is clearly unfinished. But American readers were desperate and so it was published. Yes, I read it. It is good, but much less so than To Kill a Mockingbird.
Follow-up authors
No matter how famous and loved an author and their books are, amongst those books there are good ones and not so good ones. You remember them for the good ones, and therefore no-one wants to see the end of the golden eggs from the goose that laid them. So, often after an author has died, the characters and settings that they developed are taken over by other authors who publish more books, but the new books are just not quite, not quite as good. Something essential always gets lost in the transition. This has happened with Stieg Larsson's Millennium Trilogy, which was taken on by David Lagercrantz, and Ian Fleming's James Bond novels, that have been continued by a long list of authors.
An orderly handover
An author may choose to make a considered, managed exit, as in the case of Lee Child who has been co-authoring his Jack Reacher novels with Andrew Child, until which time that Andrew Child will be the sole author. The character will live on, but in a controlled manner, and the writing will be as close as dammit to the original. Other authors make it their business for their creations to die with them: Henning Mankell made very sure before he died that there will be no more Wallander novels. Nothing can be changed or updated. "Wallander" and his world have been frozen in time.
More Discworld, pretty please
So, I thought, as I hopefully waded through all the Discworld-associated books by Sir Terry and Co. on Amazon, there has to be one I haven't read. Nope. I've read every one, even the ones meant for children. I went and had a look at the official Discworld fansite, and what I could see was musicals and films and theatre productions about Discworld, but no new writing. That was supposed to end with The Shepherd's Crown. And then I saw the announcement.
TLDR? See below.
To make a long story short: the stories are not new. And they were never "lost"! They had been published before. Terry Pratchett wrote these 20 short stories in the 1970s and 1980s (more than 40 years ago, before he started writing the Discworld novels), for an English regional newspaper, the Western Daily Press, many under the pseudonym, Patrick Kearns. The collection, A Stroke of the Pen: The Lost Stories, will be published on October 5, 2023. Don't you totally hate that title?
I have no doubt that the legions of Pratchett fans will buy it, and will like it. But I also have no doubt that it will not be a patch on the razor-sharp satire and polished style of the Discworld novels. And of course, there won't be any of the beloved characters.
Tamám shud!
What am I now – sad, mad, or glad? Right now, mostly sad. I have never had a good experience reading (re-)discovered early writings of famous or established authors. Sometimes, I can see a promise, a hint of what is to come. But only because I very much want to see such an early attempt as excellent. But a master of an art is not born fully formed. They grow into it. Even W.A. Mozart started at the bottom, learning to play the clavier when he was four years old. The same for authors – everyone has those first, wobbly, possibly embarrassing attempts.
Authors mature during their writing careers. They get more skilled. They become surer of themselves. The worlds they create become more detailed. Their characters develop, and change. The messages that they put into their books change with time as they, and the world around them, change.
Publishing their early works as though they were "new" – as the newspaper articles announced – seems to me to be greedy, desperate, and, frankly, disrespectful towards the author's legacy and reputation. Pratchett, who was absolutely prolific, would have collected those stories himself and published them, in his lifetime, if he had thought they were good enough.
Look, I'd really love a new Terry Pratchett novel. I know that I have a bad case of Liberfinisphobia. But I also know that there will be no more real Terry Pratchett novels. As the Persian saying goes: "Tamám shud". It is ended.
The announcement is below – most of the reports are the same as this one:
---
'New' Terry Pratchett short story collection discovered
By Jonny Walfisz • Updated: 02/03/2023 – Euronews.com
A treasure trove of Sir Terry Pratchett's short stories have been discovered and will be published as the late author's final collection of "new" writing.
The beloved British author of the fantasy novels, including the popular 41 book Discworld series, passed away in 2015 aged 66. A prolific writer in his own lifetime, Pratchett wrote 70 books that sold more than 100 million copies.
The Terry Pratchett estate has continued to publish posthumous work by the author including the final Discworld novel 'The Shepherd's Crown' in 2015, and short story collection 'The Witch's Vacuum Cleaner' in 2016.
But the next Pratchett book to be published took even his estate by surprise. 20 "new" short stories have been rediscovered and will be released in October titled 'A Stroke of the Pen: The Lost Stories'.
The short stories were written by Pratchett in the 70s and 80s for an English regional newspaper, many under the pseudonym Patrick Kearns. The stories would have gone unnoticed if not for a keen-eyed Pratchett fan.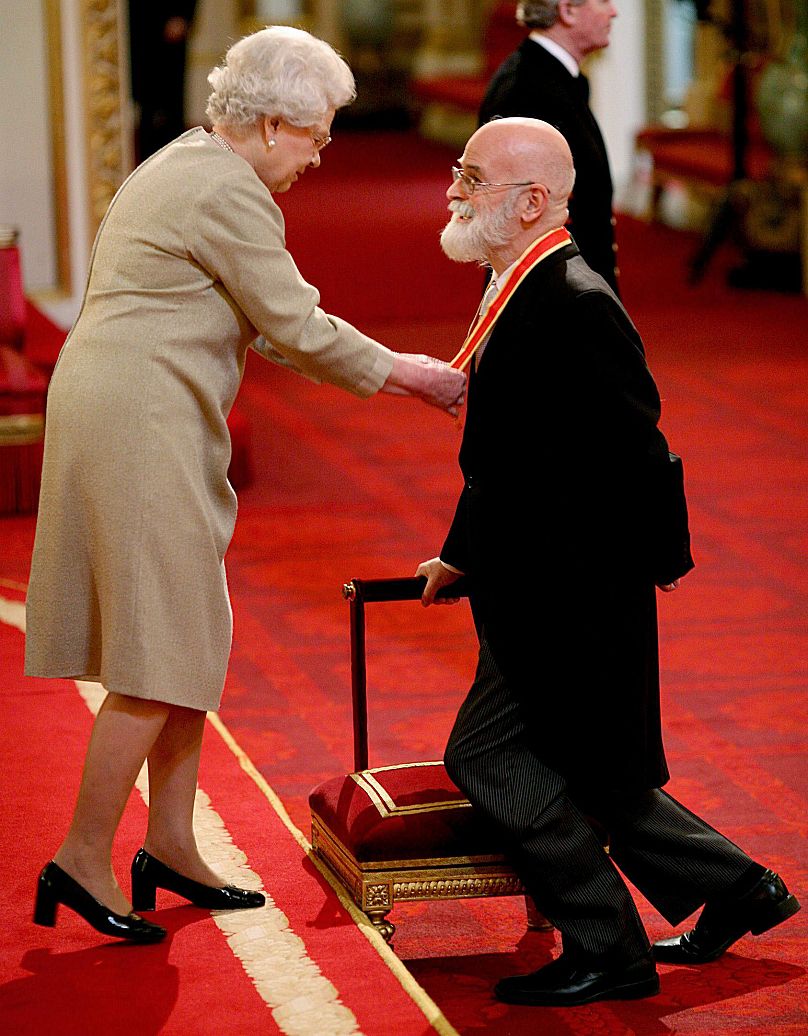 Chris Lawrence discovered one of the longer short stories 'The Quest for Keys' as a 15-year-old. "I made the effort to collect each part. I treasured and kept them safe for over 35 years," he says.
Lawrence loved the story so much, he framed 'The Quest for Keys' and had it on his wall. It was only when he connected the dots that he realised it was written in Pratchett's distinctive style. Written before the Discworld novels, the short stories still have his trademark wit and satirical intelligence, as well as a blend of fantastical imagination and mundane modernity.
Upon his discovery, he contacted Pratchett's publisher Colin Smythe. "For all the years I was Terry's publisher and then agent he never ever gave me any help in finding his shorter writings – but as he wrote in his dedication to me in 'Dragons at Crumbling Castle', there were stories he had "carefully hidden away and very deliberately forgot all about." Just how true these words were, I had no idea," Smythe explains.
The discovery of a wealth of new Pratchett material stunned Lawrence. "Having survived numerous house-moves, little did I know of their importance. Following contact with Colin, I realised just how significant they were," he says.
While these short stories will see the light of day once again, there are other posthumous Pratchett works that won't get the same treatment. The author demanded a hard drive with 10 incomplete novels was crushed by a steamroller in his will.
"The rediscovery of these stories is nothing short of a miracle and represents the last 'new' Pratchett material we are ever likely to find," explains Pratchett biographer Rob Wilkins.
"Whilst Terry was always very focussed on the next novel and maintained that his unpublished works should never be released, he always held a grudging admiration for his younger self's work, and he would be tickled to see these stories celebrated in one wonderful volume. The stories from the beginning of his career, before he became the Terry Pratchett we know and love, are no less inspired and give real insight into the development of his creative genius," Wilkins adds.
'A Stroke of the Pen: The Lost Stories' will be published on 5th October 2023.
---